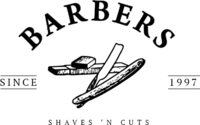 The Hot Shave
Single towel 26.00+
Multiple towels 30.00+
-Recommended for thick beards.
- Our signature shave, what we call the "ultimate indulgence".
The hot Shave begins with applying shaving oil and a hot water scrub using one of our pure badger brushes, soaking the skin.
Then a layer of pre-shave is applied for skin protection, followed by a relaxing hot towel infused in eucalyptus oil.
ext, a hot and rich lathered shaving cream is applied to prepare the skin. Our expert barbers will use a traditional straight razor with precision, going once with the grain. Then, we re-lather and apply a second infused hot towel, followed by another layer of hot lather preparing the skin for the final shave against the grain.
The final step is to apply a cold towel infused with eucalyptus oil to close the pours, and provide a soothing sensation, sealed with a mist of aftershave, and a toner palm.
The Classic Cut 25.00+
The Cut & Wash 28.00+
- Your choice of style, or we can help you decide on a new look. Full straight razor line-up included.
Buzz Cut 20..00+
- Your choice of a close cut, or right to the wood. Full straight razor line-up included.
Full Razor Line-Up 15.00+
Beard Trim 5.00+
Neck Line Up 5.00+
Grooming Wax 5.00+
Ears - Nose - Eyebrows.
The Royal Treatment 60+
The classic cut & wash, the multiple hot towel shave, the grooming wax, the style, the confidence!
Group Shaves/Wedding Shaves - Call NOW To Book.
We are honored to serve you and your crew on your wedding day or on any occasion - an experience to make your day unforgettable. We look forward to seeing you and your crew!
We proudly serve all of STIVE BARBERSHOP!